From IYPT
IYPT 2017
IYPT 2017 was held in Singapore from 5th to 12th of July 2017, hosted by the National University of Singapore. The IOC meeting took place from 12th to 14th of July. Arrival and departure days were July 5th and 12th, for IOC meeting participants July 14th.
Problems, up to date results and schedule and schedule for the tournament.
New scoresheet created for IYPT 2017 is now available for Jurors and all participants! Explanation file describing motivation and aim of new scoresheet and a Quick guide to using new scoresheet were created to clarify its structure and let Jurors familiarise with new scoring method.
Version of the IYPT regulations valid for IYPT 2017 (accepted in Ayutthaya, July 2015).
The Contract between IYPT and the Local Organising Committee of Singapore can be found here.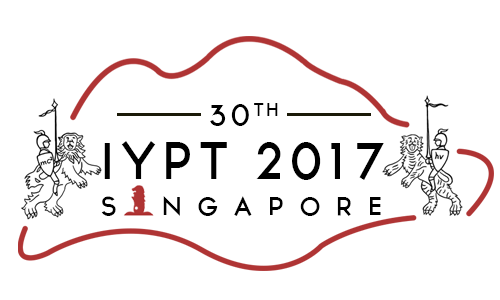 Important deadlines
The deadline for pre-registering a team was January 31st 2017, pre-registration is closed.
Applications for travel support for Experienced Jurors can be sent to registration no later than on February 28th.

The call for registration of Experienced Jurors in CURIIE was closed on March 31st.
The deadline for paying the registration fee of 1500 EUR per team was April 26th 2017.
All data regarding IYPT 2017 must be submitted to CURIIE latest on June 6th before the start of the competition.

Participating Teams at IYPT 2017:
Australia
Austria
Azerbaijan
Belarus
Brazil
Bulgaria
Canada
China
Chinese Taipei
Czech Republic
Georgia
Germany
Hungary
Iran
Korea
Macao
New Zealand
Pakistan
Poland
Romania
Russia
Serbia
Singapore
Slovakia
Sweden
Switzerland
Thailand
Ukraine
United Kingdom
USA

Guest Teams at IYPT 2017:
India