From IYPT
For sponsors
We relate our abilities to our sponsors' needs, in a way that benefits both.
What benefits you could get when associating your brand with the premier global network and with other brands that successfully partner with us?
Those who support and attend the IYPT range from Nobel Prize winners and Ministers for science and education to some best-known leaders of industry, like Audi, Samsung, Daimler, or Nokia.
The IYPT is an effective marketing platform, reaching a broad international community from dozens of thousands of keen followers to some of the World's most important decision makers.
They all see the IYPT as a focus of excellence that brings together bright minds, creativity, ideas, and fascination with science. IYPT participants themselves go on to become leaders in science and industry.
Supporting such a special group of young people is much more than sponsoring a media event.
It is an investment that brings unique returns; public visibility, recruiting young leaders, promoting knowledge and excellence, and staying at the heart of a truly global science event.
Booklet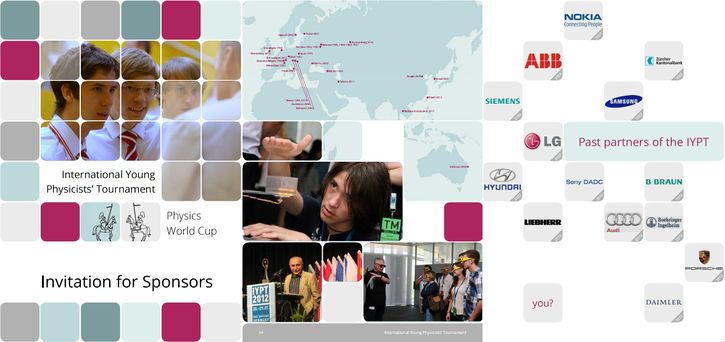 Learn more about our mission and the special opportunities in the Invitation for Sponsors (PDF file.)
It is easy for you to target specific goals by sponsoring specific events and programmes. Our sponsors can donate towards a specific project, towards a chosen future competition, or towards the worldwide organization of the IYPT. Some of these packages will allow for exclusive rights. We are willing to meet your specific needs in our media and on-site exposure.
The IYPT is ideally suited for a sponsorship portfolio that focuses on supporting talented youth, education, science, and technology. Our existing partners are proud to speak about the IYPT in their annual reports, newsletters, or bulletins for customers.
We make an impact and a difference. We are about enthusing and recruiting young talent with pre-university research and eye-catching performances.
We would love to talk to you about how we can assist with your sponsorship activities and what our options would deliver the rewards you seek from such a partnership.
Video
Feel the spirit of the IYPT in the documentary taken at the IYPT 2012 in Germany and in the teaser clip for the IYPT 2016 in Russia.
Contact
Ilya Martchenko
IYPT Treasurer
Lund University, Box 124,
SE-22100 Lund Sweden

office +46 46 22 23 677
ilya.martchenko@iypt.org